Description
Buy Metrunner OLTags (20 tags + start + finish), without technical support. QR code and NFC scanning available. Play orienteering with a simple bleep of your mobile!
Want technical support, assistance, and FREE orienteering activity? See other options
Prepare for an exciting orienteering experience in your school or club! With these smart stickers, what you need is a mobile phone with camera to scan the QR code and record your visit.
School orienteering is the key for children's health and success. Start orienteering today through OLTags!
*Additional tags must be obtained in one single request per subscription year.
Price: €199 not including VAT. If you have a EU VAT number please enter at checkout.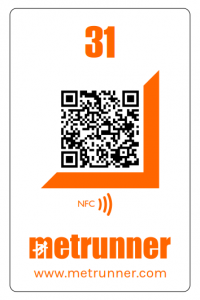 54 x 85 mm
Stickers*, QR & NFC** enabled

Stick it on the wall or hang on objects (trees, poles) with tape

Use with metrunner game platform

You need just a phone, no specialised cards needed!
*Suitable for most surfaces, except metal. If the sticker is applied on metal, NFC function may be affected.
**You can use NFC with a phone with such function, in the newest Google Chrome browser version.